Welcome to our Website for Tubby Fruits. We specialize in fresh-picked, tree-ripened peaches, cane-ripened blackberries and home-grown tomatoes. Our goal is to sell the tastiest and most succulent fruit we can. Our fruits are locally grown, picked, and sold at our Belton/Cleveland MO orchard.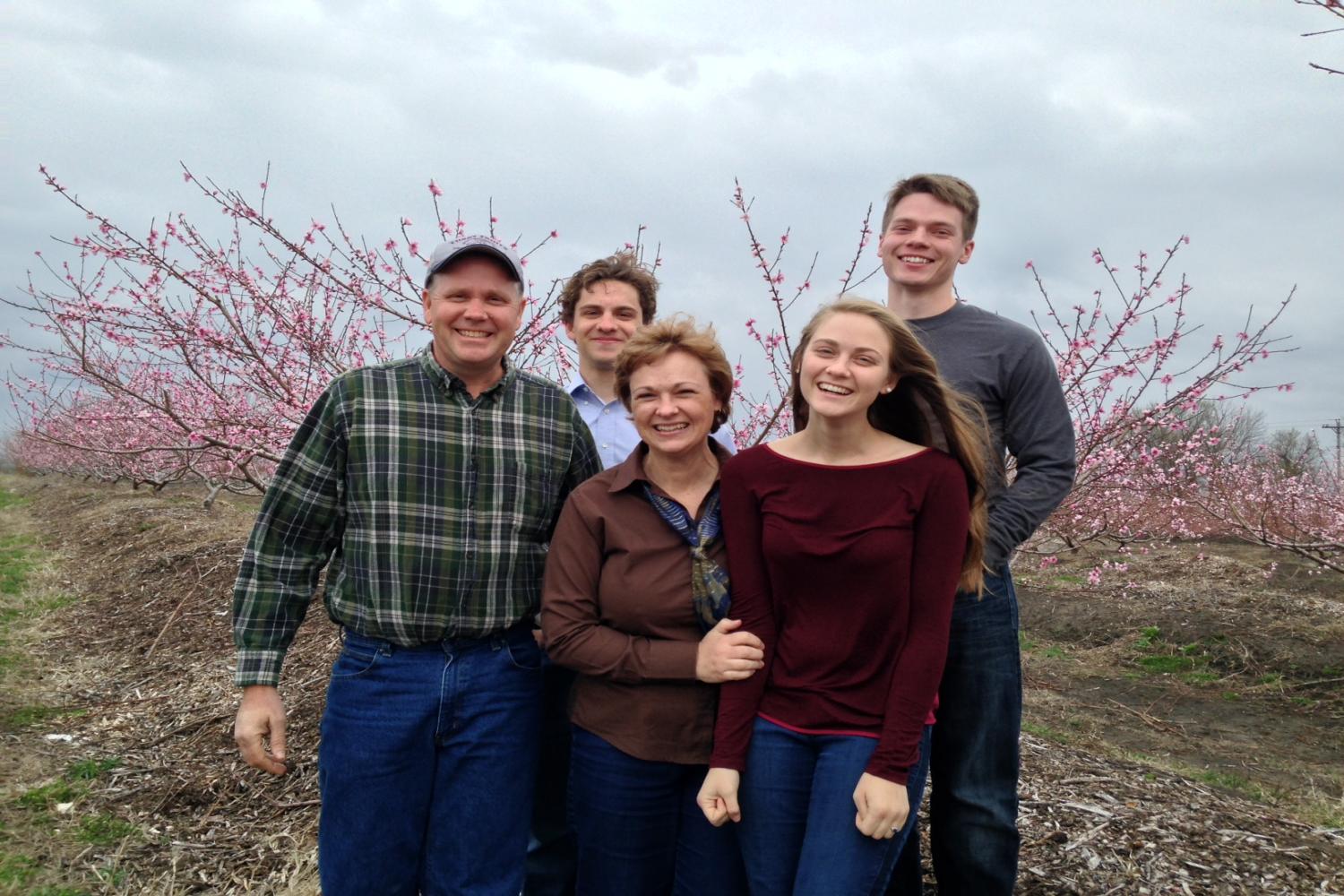 Meet the Angermayer family (2016). We took this picture on a very chilly and windy
spring day when the orchard was in bloom. A peach orchard in bloom smells very nice.

Left to right - Mark, son Gabe, Helen, daughter Megan, son-in-law Ian

To see why our peaches and blackberries may well be the best you've ever eaten, please visit our page Why Tubby Fruits Are Different

We look forward to serving you, and hope you give our deliciously plump fruits a try.
Please check our Facebook page for daily ripening information. You DO NOT have to have a Facebook account to access our Facebook page linked below. Sometimes we are temporarily sold out of fruit, so a quick check of our Facebook page could potentially save a wasted trip, in case we are temporarily sold out of fresh peaches, blackberries or tomatoes. Just click on the white "f" in the blue box below.

Mark Angermayer
Owner Tubby Fruits

"I will never put my name on a product which does not have in it, the best that is in me." - John Deere (Inventor)
Our orchard is in the south Kansas City area, located at 215th and Prospect near Belton MO (It's one mile north and two miles east of the well known blueberry farm called, "The Berry Patch".) The orchard now has over 400 peach trees and 600 feet of thornless blackberries. We not only have over 70 different peach varieties, but cherries as well. We are adding more fruit trees every year. We also grow tomatoes for sale during the summer. It's two miles east of State line, right on the NE corner of 215th and Prospect. The address is 2570 E. 215th, Cleveland MO 64734